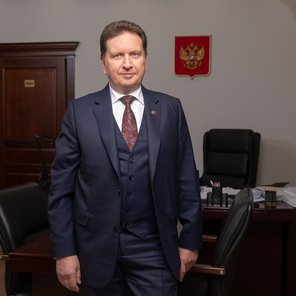 Prokhorov
Yury
First Deputy Director General
Yuri Prokhorov was born on October 29, 1960 in the village Dedenevo, Dmitrovsky District of the Moscow Region. In 1984 he graduated from Moscow State Technical University of Radio Engineering, Electronics and Automation (MSTU MIREA) with a degree of Electronic Equipment Engineer-Designer-Technologist. Later he continued his postgraduate study with the major in Radiolocation and Radio Navigation.
From 1982 to 1993 he worked at Comet R&D company where he was in charge of satellite systems for special purposes and communications. At the same time he lectured on antennas and UHF systems at MIREA Technical University. In 1993 he joined the Khrunichev Space Center (KhSC) as the head of satellite systems department, and later became Deputy General Director for Information Technologies and Communications – Director of Khrunichev Telecom, a KhSC subsidiary. In 2007 he moved to Intellect Telecom as the Director of new system projects. In July 2008 he was appointed First Deputy General Director of RSCC.
In June 2009, Yuri Prokhorov became RSCC Acting General Director. From May 2010 to June 2021 he worked as RSCC General Director.
Yuri Prokhorov headed the development and operation of telecommunications systems for the space industry (including the Baikonur and Plesetsk Cosmodromes), as well as the satellite transponder manufacturing at Khrunichev Space Center. He managed the implementation of CALS technologies in management and control systems; he supervised the development and operation of the Russian segment of the Iridium global personal mobile satellite communications system.
Honored tester of space technology. Full member of the International Academy of Telecommunications. Author of articles on the strategic development of satellite communications in Russia. Yuri Prokhorov was awarded the Order of Friendship, the medal of the Order "For Merit to the Fatherland" II degree, the Certificate of Honor of the President of the Russian Federation for merits in the development of satellite communications and many years of conscientious work, the departmental award "Master of Communications", the Order of. S.P. Korolev, Order of K.E. Tsiolkovsky, a medal named after V.N. Chelomeya. Laureate of the Prize of the Government of the Russian Federation in 2015 in the field of science and technology. Awarded with gratitude from the Council of Federation of the Federal Assembly of Russia for many years of conscientious work, great contribution to the development of information technologies and communications in the Russian Federation, gratitude from the President of the Russian Federation for his great contribution to the implementation of the project for the transition of the Russian Federation to digital television broadcasting. He was awarded a diploma of the winner of the international competition "For the best achievements in business" in the nomination "Best top manager-2015" for his great contribution to the implementation of the innovative project "System for the provision of satellite communications services along the Northern Sea Route."