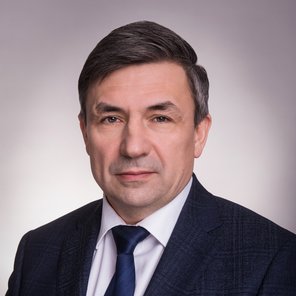 Buydinov
Evgeny
Deputy Director General for Communications Systems Development and Operation
Born on November 12, 1964 in the city of Kimry, Kalinin Region.
In 1991, he graduated from the Moscow Aviation Institute with a degree in Radio Engineering. In 2014, he received an MBA degree in Innovation Management in Telecommunications Companies from the Moscow Technical University of Communications and Informatics (MTUCI). In 2016, he received a DBA degree in Company Management in Infocommunications at MTUCI.
From 1991, he worked as a design engineer at Raduga Design Bureau in Dubna. In 1995, he joined CJSC Rustel, where he held the positions of engineer, Deputy Technical Director, and Technical Director. From 2007, he served as a Department Director at Inline Technologies Group LLC. From December 2007, he joined Russian Satellite Communications Company as Director for Investment Projects — Head of the Investment Projects Service. From May 2011, he was the Head of the Innovation Projects Service and Deputy Director General for Innovative Development at Russian Satellite Communications Company.
In November 2017, he was appointed Deputy Director General for Communications Systems Development and Operation at Russian Satellite Communications Company. Since April 2021, he has served as Chairman of the Operations Committee of Intersputnik International Organization of Space Communications. He is the author of the Innovative Development Program of Russian Satellite Communications Company. He is Academician of the International Academy of Telecommunications.
He was awarded the Medal of the Order "For Merit to the Fatherland", 2nd degree, departmental awards and corporate awards. He was awarded with a Certificate of Merit from the President of the Russian Federation for his great contribution to the project for the transition of the Russian Federation to digital television broadcasting.