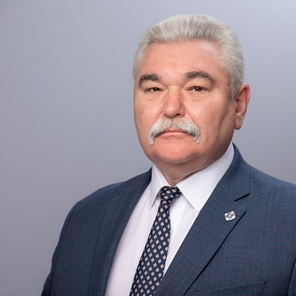 Sychev
Vasily
Deputy General Director
Vasily Sychev was born on October 23, 1959 in Moscow. In 1982 he graduated from the Moscow Aviation Technological Institute with a degree in mechanical engineering and aircraft engines. V.N. Sychev has a Ph.D. in engineering sciences.
In 1982-2016 he worked at FSUE Khrunichev Space Center (KhSC) as a production section foreman, head of the production department and deputy director for economics of KhSC's Rocket & Space Plant, then as KhSC Deputy General Director / Director of the Rocket & Space Plant, First Deputy General Director and acting General Director.
In 2016, he moved to work at the JSC Research & Production Association of Measuring Instrumentation (NPO IT) first as chief engineer and later as First Deputy General Director of NPO IT.
Returning to KhSC in April 2020, he worked until July 2021 as Deputy General Director for Production - Director of the Rocket & Space Plant.
V.N.Sychev's awards include medals of the Order of Merit for Fatherland (I and II degrees), medal For Labor Merit, medal In Commemoration of the 850th Anniversary of Moscow. Laureate of the RF Government Prize in the field of science and technology.