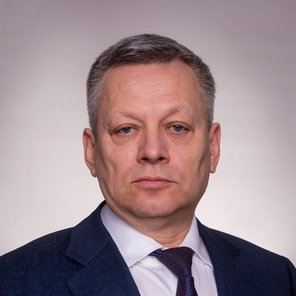 Ganin
Aleksandr
First Deputy Director General
Born on May 22, 1959 in Moscow.
In 1981, he graduated from the Military Engineering Institute after A. F. Mozhaisky with a degree in Radio Electronic Systems of Complexes. From 1981 to 1998, he served in the Armed Forces and held scientific and leadership jobs at the Central Research Institute of the Military Space Forces of the Ministry of Defense; Reserve Colonel.
In 1998–2001, he was Deputy Director at the Research Institute of Space Systems, a branch of the Khrunichev State Research and Production Space Center. From 2001 to 2007, he was Director of the Small Spacecraft Communications Program, and Head of the Small Spacecraft and Satellite Systems Department at the Khrunichev State Research and Production Space Center. Since 2007, he worked for Intellect Telecom OJSC (AFK Sistema's telecommunications R&D center) successively as a Project Manager, Director for New System Projects, and Deputy General Director.
Since January 2011, he has served as First Deputy Director General for Russian Satellite Communications Company. Aleksandr Ganin coordinates the operations of the company's space infrastructure development and operation services. PhD in Technical Sciences, Senior Researcher. Active member of the Tsiolkovsky Academy of Cosmonautics. He led comprehensive R&D activities for the development of a ground-based automated spacecraft control complex and navigation equipment for GLONASS/GPS users. He also supervised the preparation of measuring systems for spaceports and ground-based measuring systems for Proton-M and Breeze-M flight tests. The program for the designing and manufacturing of KazSat satellite communication and broadcasting system for the Republic of Kazakhstan, and Ekspress-MD1 for Russian Satellite Communications Company was implemented under his leadership.
He was awarded the jubilee medal "15 years of Kazakhstan Space Communications" for his substantial contribution to the development and establishment of space communications in Kazakhstan. He is the author of many articles on the development of ground-based spacecraft control and operation systems, and navigation systems and tools, and the author of a number of inventions. He was awarded the Order of Friendship, the Order of Honor, the Certificate of Merit from the President of the Russian Federation for his contribution to the development of satellite communications in Russia and many years of dedicated work, as well as departmental awards and corporate awards.